When we are concerned with garage door matters, we usually concentrate on their safe operation but these systems are primarily installed to provide security. They are meant to secure our cars, valuables and the entire home. If they fail to do so, there should not be any hesitation in spending money on garage door replacement and systems. Though, a new garage system will not remain new and perfect as it was the first day. Overtime, it will wear and require treatment, maintenance and attention. The parts will demand replacement and repairs. All these steps in combination with the installation of extra security systems will ensure security, safety and proper maintenance.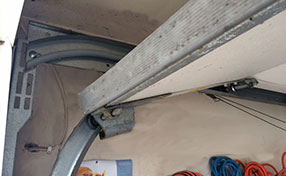 Basic tips to keep a secure garage entrance
It is obvious that alarm systems and locks will ensure garage door security. In fact, most modern garage doors lock and you can also install rotating cameras, extra motion detection lights and similar high tech security gadgets. Though, if the glass panel of the window is broken or there is something seriously wrong with the door or system, the best security systems won't keep intruders away. At least not those who are determined to enter your property. A great number of people are under the impression that the absence of the bottom seal for a few days shouldn't make a difference. That is incorrect; perpetrators come organized with tools, which can be put under the door and pull it open.
It's significant to remember that the smallest detail can make a great difference to your security. When the extension garage door springs are not replaced on time, the door might not close evenly on both sides. Even if you have a solid bottom seal, there will still be a small gap under the door and the intruder could come in. Damaged tracks and rollers would jam the door, which possibly would remain slightly or widely open. Do you call this situation a secure entrance? Taking care of problems as soon as possible is mandatory for several reasons including the security of your house! At the same time, remember to do the obvious. Don't leave the door open without a good reason or when you are not in the garage and make sure the door leading to the main house is locked at all times.